Hello! I'm Lindsay Peltz, the artist behind Random Acts of Cat. This project began in January 2020, and it's all because of a Facebook group.
The Random Acts of Cat project
Every day I draw at least one small cat portrait and offer to send it to the cat's owner if they want it. No cost, no strings attached, just a unique piece of art that will either go out into the world or hang out with me at the studio, immortalizing a moment in a beloved cat's life.
My goal is to give as many people as possible a random act of kindness – or in this case, a random act of cat!
How it all began
For a while I've headed to the This Cat is C H O N K Y Facebook group when I need some cheering up because it's a fantastic no-drama place to enjoy some delightful cat photos. A while back I started sketching peoples' cats and then sharing the sketches with them on their posts. The owners always seem happy to receive surprise art of their furry friends, and I love making people happy: everyone wins!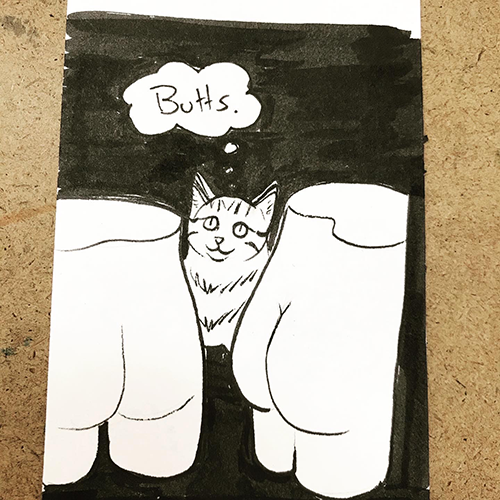 I was at the studio one day, procrastinating by scrolling through Facebook, when the most delightful image appeared. The owner had purchased a pair of mannequin posteriors, which the cat couldn't get enough of, and the photo showed the cat standing between them. This deserved more than a sketch!
On a small piece of scrap paper I drew and then inked my rendition of this amusing scene. The cat owner was delighted, and I offered to send them the image if they wanted it. They did!
And so, Random Acts of Cat was born. A portrait a day, every day, surprising a cat owner and hopefully bringing them some happiness!
About me
I live in beautiful Penticton, BC with my husband and our two school-aged boys. Our house is also home to two guinea pigs (Eevee and Pikachu), two rats (Coconut and Cheesecake), and one cat (Houdini).
I'm a self-taught artist who specializes in colorful and cartoony work, and I even make comics occasionally. My favorite subjects are animals and fantasy critters and my preferred mediums are colored pencil and markers, although I'm working on pushing myself to try out other mediums.